I enjoy digging around online trying to find the easiest, simplest, fastest ways to apply minimal makeup. Why is that? Well I am moving on to a big girl job this fall and I've got to work on my five minute makeup face, and perhaps even 3 minute makeup face.
So this will be a post that will be a work in progress for now, until I expand my list, and my ideas. I'll also be adding pictures, and hopefully before/after shots of me providing examples of what you can do with like 5 or less products.
(Everyday/Mom/Office Makeup Routines)
The Minimum Basic (3 Min Face):
1) Foundation
2) Blush
3) Mascara
4) Lip Product - Any kind of gloss, lipstick, tinted lip balm is cool.
The Essential Basic (3.5 Min Face):
1) Foundation
2) Blush
3) Mascara
4) Lip Product
5) Pressed Powder - to set the face and combat day shine
The Basic (4 Min Face):
1) Foundation
2) Blush
3) Mascara
4) Lip Product
5) Powder
6) Eye brow pencil
The Better-Than-Basic (5 Min Face):
1) Foundation
2) Blush
3) Mascara
4) Lip Product
5) Powder - to set the face
6) Eye brow pencil- to fill in sparse patches and give shape
7) Black Pencil Eyeliner
The Long-Work-Day-Basic (6 Min Face):
1) Foundation
2) Blush
3) Mascara
4) Lip Product
5) Powder
6) Eye brow pencil
7) Black Pencil Eyeliner
8) Face primer - to make that makeup LAST until midnight, and to minimize pores
As you can see none of these faces require anything more than your fingers to apply, unless of course you use powder products in the form of blush or setting/pressed/loose powder. Then a large blush/face brush would be good enough.
One important thing to note is the lack of concealer and eyeshadow in my lists above. I personally love eyeshadow very much, and I know that concealer is a big deal for a lot of people, but in order to carve the makeup looks down to the minimum possible number of steps, I had to have some items do double duty. Foundation, a full coverage one, set with a tinted powder, and on relatively healthy skin, should be enough. Eyeshadow is a hassle to apply unless you go for a sweep with your fingers. I find that a bright shimmery shadow on me however, makes my eyes look small, as I need to darken/define my crease to really open them up.
These routines also does not take into account the time it takes to put on sunscreen moisturizer, contacts, or getting dressed so it's not a total "get out the door" tutorial. However, it's as close as I can get.
The last of the makeup looks is for any of you gals out there who work beyond 9-5, I'm talking 9-midnight young paralegals, bankers, financial analysts, consultants, etc. All of the products I named above can be stashed away into a relatively light makeup bag for easy travel. Throw in some makeup wipes, a colorful lipstick, and some party earrings, and you're good for any last minute happy-hour/work-party/dinner events. (This is if you even get to leave the desk to go to any of those those.)
On to the lips thing though, I do recommend you stick with sheer, cream, natural, nude shades. I would try to avoid shimmer unless it's very subtle. One lip product I initially hated but learned to love was Revlon Lip Butter in Peach Parfait. But I've also purchased (but not yet tested) Wet n Wild's Matte Lipstick in Bare it All.
Let's Talk Money
In terms of budget, in order to keep it to the bare minimum, and to make it affordable to all I'm going to suggest places/prices for a lot of the products, and they are all drugstore or even dollar store. That way, if you live in a god-forsaken place like New York City where your soul, security deposit, and paycheck all go towards maintaining your windowless room's rent.... you can still make it work.
Foundation: $3-5
Rimmel Stay Matte Mousse Foundation is $5 regular price at the drugstore, you can get it on sale now at Ulta for $3.99
Wet n Wild Creme Tube Foundation is $3-4 at drugstore.com, I've used it and it doesn't smell great, but the coverage is decent and it's creamy/moisturizing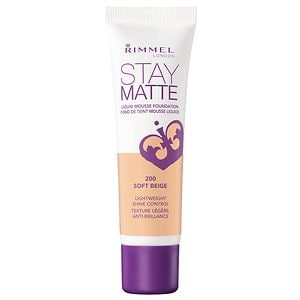 Lip Product: $1-2
Seriously just go to the dollar store/drugstore.com and grab an LA Colors lipstick (below it's in the color Caramel Creme). Rave blogger reviews online. Or stop by Big Lots and find some Maybelline ones on clearance for $1.50. Gloss, tinted lip balm, lip chubby pencil, anything will do.
Blush: $3
Dollar store blush unless it's name brand is typically powdery and low pigment. Either use a sheer pink frosty lipstick as a creme blush or get the Wet n Wild blush in
Heather Silk for $2.99
. It's pigmented and the pan is huge. Can't go wrong, so don't doubt me. Heather Silk has no shimmers but I personally prefer the Pearlescent Pink.
E.L.F. cosmetics also has a blush and bronzer duo in St. Lucia that is often touted as a Nars Dupe (it's not), but the bronzer is deep and pigmented, and the peachy blush is sheer so you can swipe sweep to your hearts content.
Mascara: $3-4
You can get it at the dollar store but I've read sometimes duds smell like chemicals and the tube is tiny. Rimmel WOW lash mascara is $4 and L'oreal Voluminous Mascara (various sub-types) are found often at Big Lots for $3.50-$4.00.
Jordana Best Lash Extreme Mascara
is also a blogger favorite for only $3.
Blush/Powder Brush: $1
There's a decent one at the dollar store/Target/online from the brand E.L.F.'s Essential line.
I got the pictures from www.drugstore.com just to show you what the product looks like.
And there you have it, a minimal, work-appropriate, travel friendly, fast, easy $10 makeup look.